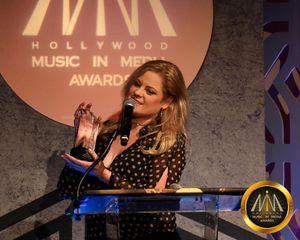 Hi Friends, 
It's the eve "eve" before Thanksgiving, and man oh man - I sure am looking forward to a break, aren't you? 
I love Thanksgiving. It provides a welcomed opportunity to reflect on blessings that are all-too-easy to take for granted in the hustle of the daily grind! 
A few nights ago, "Jingle Jangle" was awarded "Best in Holiday" by the Hollywood Music in Media Awards. I was FLOORED! 
As an independent artist, it often feels like you labor endlessly, in pipe dream hopes that "one of these years" you'll see the fruits of your labor. And you do so - knowing that there are NO GUARANTEES! 
We're all artists of our own lives. Creating, laboring... investing our time, love, and resources as best we can -- in hopes of reaching a pinnacle of success, that will guarantee our worth. It's crazy making! 
As I reflect on the recent success of 'Tis The Season & "Jingle Jangle" in Disney's "Noelle," and this beautiful HMMA Award - as grateful as I am for "bonified, good-on-paper" success, - I know for SURE that the deepest joy of all - was in the CREATING of those songs. 
I guess what I'm realizing is, the only guarantee that any of us have, is thisday's opportunity to create something meaningful. We can step up, or we can check out. If you're anything like me, you do both - depending on how much sleep you've had, or what time of the month it is! 
Today, I tip my hat to you, and for all the various ways that you step up for your journey. I know there terrain can be grueling. I also know the terrain can be very sweet. Even more so, when you've earned your badge of honor. 
Happy Thanksgiving! 
Love,