The New Album Coming 11.12.21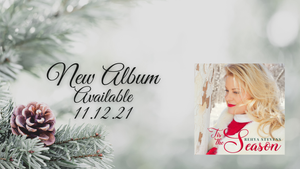 Seasons greetings, Friends!
What an experience these last few years have been. I don't know about you, but I have learned, grown, prayed, wept, spent countless days working in pj's, and endless nights thinking about what matters to me and what doesn't matter to me anymore.
Creativity matters to me. I love making music as much as I always have. I love cooking (though I loathe the cleanup), especially on chilly, windy days with a fire on. I love quality time with my family - no screens - just being together, and sharing inspired conversation. I love collaborating on a shared vision - for a song, a puzzle, a party, a playlist. Friends matter to me. Strangers matter to me. Animals matter to me. Well being and abundance for all - matters to me.
What doesn't matter so much anymore?
1.) Trying to change people. Teaching by example is nearly impossible when you're too drained and frustrated to keep your cool - and teaching by example is the most effective, energy efficient way to lead. I wish I had accepted this fact long, long ago.
2.) Chasing anyone or anything that seems to get further and further out of reach with every step. 'Tis no good to wind up in no-man's land - tired and thirsty.
3.) Hours in LA traffic, thinking I'm being productive. I'm not.
4.) Perfection. It is a tyrannical pursuit.
All that being said, I'm pretty thrilled that in the wake of 2020 (and over half of 2021), I made another Christmas album with friends Tom Keane, Jon Kubis, Gardner Cole and Michael NOMAD Ripoll! 
"'Tis the Season" will be released on November 12th, with my songwriter soul a-singin' and a-jinglin' down to release-day lane. I hope this collection of songs makes you laugh, dance, dream and PLAY!! We all sure could use some levity 'round here.
'Tis the Season! Let's celebrate and love one another. 
Love,